I can't wait for this show! Put it on your calendar on Friday, November 1st at the Yuengling Center!
Don't forget to sign up for Club QYK for a chance to get your tickets during the exclusive presale. Be signed up by Tuesday 5/7, COB to ensure you don't miss anything!
Tickets go on sale Friday, May 17th at 10a. Listen all next week at 7:40a + 3:40p to win your tickets before you can buy them!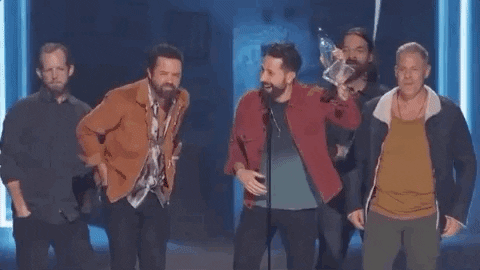 Giphy.com
Gallery: Old Dominion Through The Years
NASHVILLE, TN - NOVEMBER 03: Trevor Rosen, Geoff Sprung, Matthew Ramsey, Brad Tursi, and Whit Sellers of Old Dominion attend the 52nd annual ASCAP Country Music awards at Music City Center on November 3, 2014 in Nashville, Tennessee. (Photo by Michael Loccisano/Getty Images)

FLORENCE, AZ - APRIL 09: Country Rock Group Old Dominion, Trevor Rosen, Matthew Ramsey, Brad Tursi and Geoff Sprung perform at Destination Country presented by Firestone during Country Thunder USA - Day 1 on April 9, 2015 in Florence, Arizona. (Photo by Rick Diamond/Getty Images for Country Thunder USA)

FLORENCE, AZ - APRIL 09: Country Rock Group Old Dominion, Trevor Rosen, Matthew Ramsey, Brad Tursi and Geoff Sprung perform at Destination Country presented by Firestone during Country Thunder USA - Day 1 on April 9, 2015 in Florence, Arizona. (Photo by Rick Diamond/Getty Images for Country Thunder USA)

MANHATTAN, KS - JUNE 25: Matthew Ramsey and Brad Tursi of Old Dominion perform at Kicker Country Stampede Manhattan, Kansas - Day 1 on June 25, 2015 in Manhattan, Kansas. (Photo by Rick Diamond/Getty Images for Kicker Country Stampede)

NASHVILLE, TN - NOVEMBER 04: (L-R) Musicians Trevor Rosen, Whit Sellers, Matthew Ramsey, Geoff Sprung, and Brad Tursi of Old Dominion attend the 49th annual CMA Awards at the Bridgestone Arena on November 4, 2015 in Nashville, Tennessee. (Photo by Michael Loccisano/Getty Images)

NASHVILLE, TN - JANUARY 14: Old Dominion's Matthew Ramsey, Whit Sellers (drums), Geoff Sprung and Brad Tursi perform Opening night of their Meat and Candy 2016 tour at Marathon Music Works on January 14, 2016 in Nashville, Tennessee. (Photo by Rick Diamond/Getty Images)

NASHVILLE, TN – FEBRUARY 10: Old Dominion's Matthew Ramsey and Brad Tursi performs at CRS New Faces during CRS 2016 – Day 3 at The Omni Hotel on February 10, 2016 in Nashville, Tennessee. (Photo by Rick Diamond/Getty Images)

LAS VEGAS, NEVADA - APRIL 03: (L-R) Singers Whit Sellers, Trevor Rosen, Matthew Ramsey, Brad Tursi, and Geoff Sprung of Old Dominion, winners of New Vocal Duo or Group of the Year, pose in the press room during the 51st Academy of Country Music Awards at MGM Grand Garden Arena on April 3, 2016 in Las Vegas, Nevada. (Photo by David Becker/Getty Images)

FLORENCE, ARIZONA - APRIL 07: Singer/Songwriters Matthew Ramsey of Old Dominion relaxes backstage during County Thunder Music Festivals Arizona - Day 1 on April 7, 2016 in Florence, Arizona. (Photo by Rick Diamond/Getty Images for Country Thunder USA)

NASHVILLE, TN - APRIL 18: Old Dominion's Brad Tursi, Trevor Rosen, Matthew Ramsey, Whit Sellers, and Geoff Sprung during the AIMP Nashville Awards on April 18, 2016 in Nashville, Tennessee. (Photo by Rick Diamond/Getty Images for AIMP)

CHICAGO, IL - JULY 17: Matthew Ramsey and Brad Tursi of Old Dominion perform during the 4th Annual Windy City Smokeout, BBQ and Country Music Festival on July 17, 2016 in Chicago, Illinois. (Photo by Daniel Boczarski/Getty Images for Windy City Smokeout)

NASHVILLE, TN - NOVEMBER 02: Whit Sellers, Brad Tursi, Matthew Ramsey, Trevor Rosen, and Geoff Sprung of Old Dominion attend the 50th annual CMA Awards at the Bridgestone Arena on November 2, 2016 in Nashville, Tennessee. (Photo by Michael Loccisano/Getty Images)

LAS VEGAS, NV - APRIL 01: (L-R) Musicians Trevor Rosen, Matthew Ramsey, Brad Tursi and Geoff Sprung of Old Dominion perform onstage at the ACM Pool Party For A Cause on April 1, 2017 in Las Vegas, Nevada. (Photo by Frazer Harrison/Getty Images for ACM)

LAS VEGAS, NV - APRIL 02: (L-R) Bassist Geoff Sprung, frontman Matthew Ramsey, drummer Whit Sellers, and guitarist Brad Tursi of music group Old Dominion perform onstage during the 52nd Academy of Country Music Awards at T-Mobile Arena on April 2, 2017 in Las Vegas, Nevada. (Photo by Ethan Miller/Getty Images)

TWIN LAKES, WI - JULY 22: Matthew Ramsey of Old Dominion performs during Country Thunder In Twin Lakes, Wisconsin - Day 3 on July 22, 2017 in Twin Lakes, Wisconsin. (Photo by Rick Diamond/Getty Images for Country Thunder)

TWIN LAKES, WI - JULY 22: Matthew Ramsey, Geoff Sprung and Brad Tursi of Old Dominion perform during Country Thunder In Twin Lakes, Wisconsin - Day 3 on July 22, 2017 in Twin Lakes, Wisconsin. (Photo by Rick Diamond/Getty Images for Country Thunder)

NASHVILLE, TN - NOVEMBER 08: Whit Sellers, Brad Tursi, Matthew Ramsay, Trevor Rosen, and Geoff Sprung of Old Dominion attend the 51st annual CMA Awards at the Bridgestone Arena on November 8, 2017 in Nashville, Tennessee. (Photo by Michael Loccisano/Getty Images)

LAS VEGAS, NV - APRIL 15: (L-R) Whit Sellers, Geoff Sprung, Matthew Ramsey, Brad Tursi and Trevor Rosen of musical group Old Dominion accept the Vocal Group of the Year award onstage during the 53rd Academy of Country Music Awards at MGM Grand Garden Arena on April 15, 2018 in Las Vegas, Nevada. (Photo by Ethan Miller/Getty Images)

LAS VEGAS, NV - APRIL 15: (L-R) Whit Sellers, Trevor Rosen, Matthew Ramsey, Geoff Sprung, and Brad Tursi of musical group Old Dominion, winners of the Vocal Group of the Year award, pose in the press room during the 53rd Academy of Country Music Awards at MGM Grand Garden Arena on April 15, 2018 in Las Vegas, Nevada. (Photo by Tommaso Boddi/Getty Images)

ATLANTA, GA - MAY 26: Matthew Ramsey of Old Dominion performs in concert at Mercedes-Benz Stadium on May 26, 2018 in Atlanta, Georgia. (Photo by Paras Griffin/Getty Images)

ATLANTA, GA - MAY 26: Geoff Spring, Trevor Rosen, Matthew Ramsey and Brad Tursi of Old Dominion perform in concert at Mercedes-Benz Stadium on May 26, 2018 in Atlanta, Georgia. (Photo by Paras Griffin/Getty Images)

NASHVILLE, TN - NOVEMBER 14: (FOR EDITORIAL USE ONLY) Pictured are Geoff Sprung, Trevor Rosen, Matthew Ramsey, Brad Tursi and Whit Sellers of musical group Old Dominion backstage at the 52nd annual CMA Awards at the Bridgestone Arena on November 14, 2018 in Nashville, Tennessee. (Photo by Terry Wyatt/Getty Images)

LAS VEGAS, NEVADA - APRIL 07: Group of the Year winners Old Dominion pose in the press room during the 54th Academy Of Country Music Awards at MGM Grand Garden Arena on April 07, 2019 in Las Vegas, Nevada. (Photo by Ethan Miller/Getty Images)

INDIO, CALIFORNIA - APRIL 28: (L-R) Brad Tursi and Matthew Ramsey of Old Dominion perform onstage during the 2019 Stagecoach Festival at Empire Polo Field on April 28, 2019 in Indio, California. (Photo by Kevin Winter/Getty Images for Stagecoach)